The British Independence Inn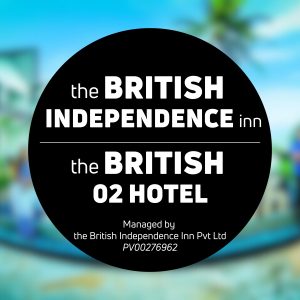 Welcome to The British Independence Inn, your haven of luxury nestled near the pristine shores of Negombo beach. Situated in a picturesque location, our hotel offers a unique blend of elegance, comfort, and warm hospitality, ensuring an unforgettable stay for every guest.
As you step into The British Independence Inn, you'll be greeted by a sophisticated and inviting ambiance that reflects the rich heritage and charm of the British colonial era. Our hotel exudes a sense of timeless grandeur, with its classic architecture, elegant décor, and attention to detail that harkens back to a bygone era of refinement.
Our well-appointed rooms and suites are meticulously designed to provide you with the utmost comfort and relaxation. Each room is a sanctuary of tranquility, featuring plush furnishings, modern amenities, and stunning views of either the azure Indian Ocean or our beautifully manicured gardens. Whether you're here for a romantic getaway, a family vacation, or a business trip, our accommodations offer a perfect blend of luxury and functionality.
Indulge your taste buds in a culinary journey at our exquisite restaurants, where our talented chefs create a symphony of flavors using the finest locally sourced ingredients. From sumptuous international cuisine to delectable Sri Lankan specialties, our menus are crafted to tantalize your palate and create an unforgettable dining experience.
Unwind and rejuvenate your senses at our state-of-the-art spa and wellness center. Treat yourself to a range of indulgent treatments, including soothing massages, revitalizing facials, and relaxing therapies that will leave you feeling refreshed and invigorated. Our professional therapists are dedicated to providing you with a blissful escape from the stresses of everyday life.
For those seeking adventure and exploration, our hotel is ideally located near the stunning Negombo beach. Enjoy leisurely walks along the golden sands, take a dip in the crystal-clear waters, or embark on thrilling water sports activities. Immerse yourself in the rich cultural heritage of Negombo by visiting nearby attractions such as historic temples, vibrant markets, and fascinating fishing villages.
At The British Independence Inn, we believe in providing exceptional service that exceeds your expectations. Our friendly and attentive staff is committed to ensuring that your every need is met, from personalized concierge services to organizing memorable excursions and experiences. Your comfort and satisfaction are our top priorities, and we strive to create lasting memories that will keep you returning to our hotel time and time again.
Whether you're seeking a luxurious getaway, a romantic escape, or a memorable destination for a special occasion, The British Independence Inn is the perfect choice. Experience the epitome of elegance, sophistication, and unparalleled hospitality at our luxury hotel near Negombo beach. Allow us to cater to your every desire and create an extraordinary stay that will linger in your memories for years to come.
Contact
No.111/5, St.Anne's, Lane Palangathure, Negombo
077 633 5538